From Brian Cameon, Blue Creek Academy, on the creek
Scroll down!
Brian writes about our search for evidence of the Hill family, early Blue Creek property barons. Best information I've seen is that their place was originally around Old Kendalia, shown on old topo maps as being just a bit East of the Academy site (we've called it Camp Joshua Scott, or Camp Galahad). The big rock below if just up a hill south of where we think the house may have been prior to Blue Creek flooding it. Mary Black's grave is nearby -- in a cemetery where several Hill family members are also buried, on the side of the hill to the north of the camp. She was connected with this family also.
Brian mentions Middle Fork as the location of "the trestle" at Middle Fork (see the Blue Creek Rail page) which likely was the stopping point for the train which carried us to camp in the 50s and 60s. The railroad turns south here, and a few miles from the trestle New Kendalia is shown on more recent topo maps. We also have some old documents placing the later Hill residence (and a store) at New Kendalia.
In Decmeber 2010, Ruth Knockeart sent this picture of the Hill family house at Kendalia. Ruth's father was grandson to Owen Duffy Hill, whose house is shown. He grew up going to the house for the summers. We hope to receive additional information from Ruth and her family!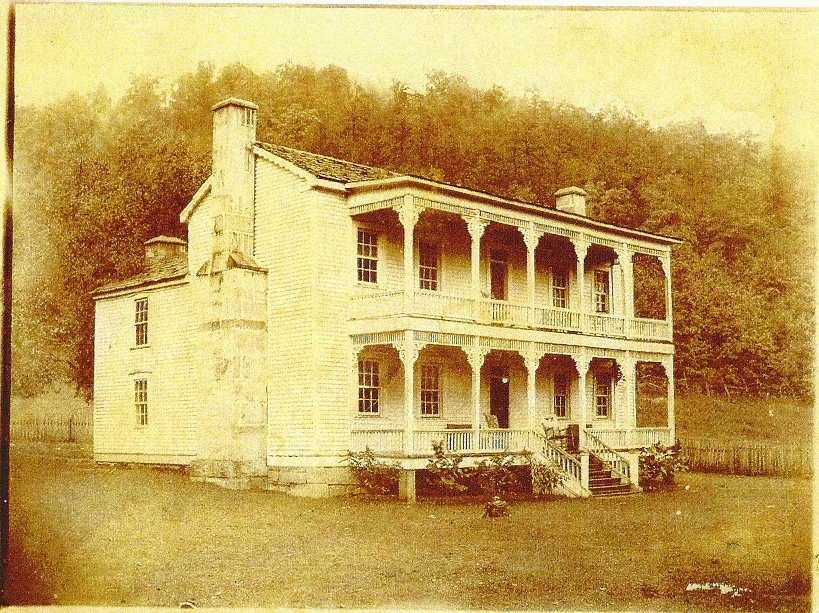 See this link to Randy Rice's camps site for more on the Hill Family. http://www.wrandyrice.com/camp/the_hills.htm
We're still working on it, so if you have information, please let us know. -- Bob Lilley
Here's Brian's material:
BL -
It was great to see you this weekend. I trust you had a great time. Here are two pics of the rock on the hill - initialed and dated.
The etching is near the base of the rock below the guy that is standing third from left.
-BC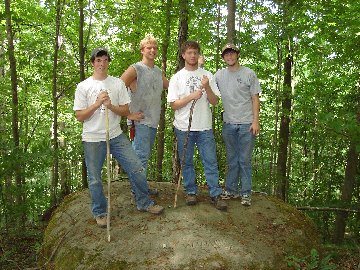 ...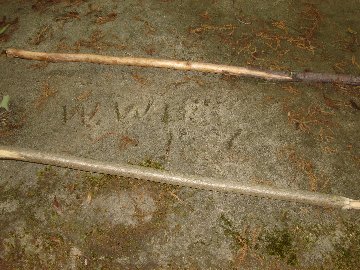 "W. W. Hill 1886"
I'd already visited your site this morning and looked at pics. I did not cross paths with Randy. Though I'm not sure which trestle you saw, I remember the one at the end of the straight stretch at Middle Fork. We did not dare drive across it, but we got out and walked around for quite a while. That was back in early May when we were hunting for Kendalia.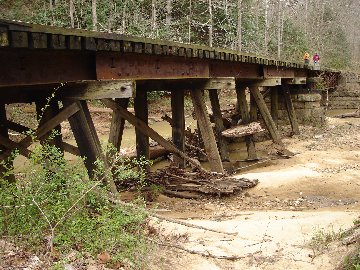 Even after posting this pic, I went back and read Kendall's info and looked at photos that he sent. In every photo, he lists this location as Old Kendalia. He noted that the house was constructed in 1890. What's interesting is that he states that O.D. Hill was born at Old Kendalia in 1865. Maybe he was born in an older house at the "Old Kendalia" site. He even has a hand-drawn map of New Kendalia (Middle Fork) which shows the house, railroad, and loading dock. The same three things are seen in a photo that he sent and labeled "New Kendalia." I hope that does not confuse things too much.
All for now. Thanks again. I'm learning much.
-BC
---